Helping you feel at home.

The Compass Concierge Effect is a marketing campaign for Compass on behalf of its service offering, Concierge. I created and led the campaign's concept, art direction, and messaging.

Disciplines
art direction
copywriting
digital design
print design
Concierge is a service individuals can leverage during the selling process for a myriad of situations — moving, remodeling, temporary relocation, etc. The original messaging for Concierge was built upon the simple notion that if you utilize the service, it will help you "sell your home faster and for more money, with no interest — ever."

The problem with this original messaging was that it was vague and transactional; it didn't cover the full spectrum of what Concierge had to offer, it felt too similar to competitors, and Concierge's technical details were always in flux. So my team and I devised a solution that focused on something more substantial and unique: how a seller might feel after using Concierge.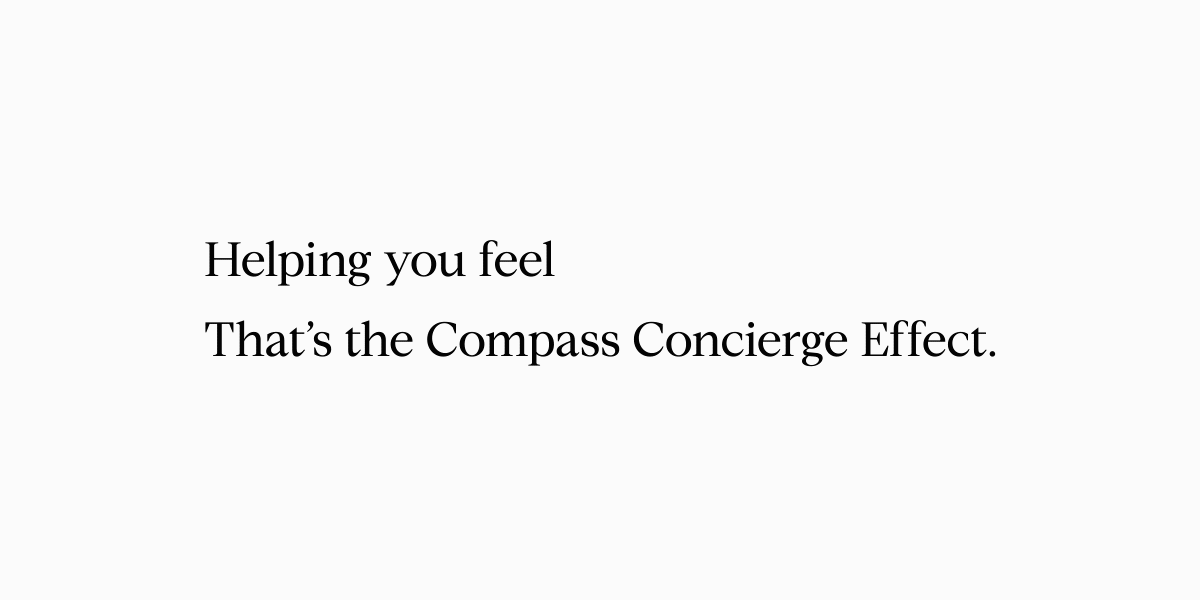 To counteract the negative feelings most people harbor during the moving process, a simple messaging strategy was employed across the campaign: "Helping you feel [relaxed; relieved; happy]. That's the Compass Concierge Effect."

This directly informed the imagery associated with the messaging — a series of photographic vignettes were shot and styled, each one carefully illustrating a different character manifesting their corresponding emotion.

The campaign was spread across a wide range of collateral applications — from out-of-home advertising, to printed one-sheeters and postcards, to social media posts. These were delivered to Realtors as a customizable suite of templates, enabling them to infuse the designs with their own personality and contact info, while simultaneously upholding the vision behind the campaign and promoting awareness about the program as a whole.
With emotive messaging and concise, visual storytelling, this campaign represents an unprecedented yet wholly necessary move for Compass in the sphere of consumer advertising. It not only propels the brand's equity within the public eye, but empowers agents with turnkey marketing solutions for their own respective brand image.
created at
compass
art director & designer:
james edward bonilla
marketing director:
erika gutierrez sheridan
copywriter:
drew weymer
strategist:
monica norcini
photographer & stylist:
laura metzler
models:
derek disabatino, holden, makeda solomon, marc pina, stanton schnepp, susie patrick